Corporate Storytelling - NAU! The Eyewear Revolution
An interview with Monica Salvestrin, Creative Director at NAU! A Made in Italy eyewear brand that's green and chic!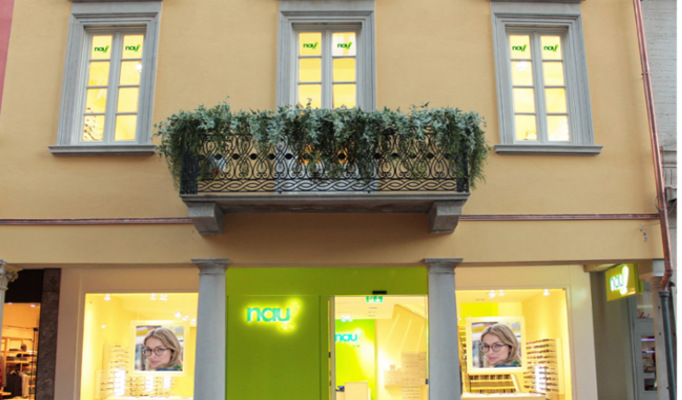 Please describe the identity, history and values that underpin your company.
First of all, NAU! is the result of long experience in various industries, from retailing to traditional optics, which I usually refer to as "our previous life."
We founded NAU! in 2005, inspired by the experiences of industry giants from other sectors of the market. Swatch, Zara and Ikea were some of our reference models. Since then, the company's core values have been innovation, sustainability, transparency, the happiness and value of each individual person, and solidity.
We don't think of spectacles as medical devices, we think of them as a fashion accessory - unique and colourful, with the potential to add character to the face and the appearance of the wearer. We love colour, which can add energy to people's faces.
We are conscious of the importance of sight and eyewear, but in NAU! shops you'll never find opticians in white coats attending to customers, because we want our clients to see the front-end experience at least as a fun, shopping trip. Of course, there's also a technical area with a team of opticians and optometrists ready to assist customers.
What is the USP for your products/services and what are the reasons for their success?
NAU! glasses are a fun accessory with a great impact on people's appearance. We have real passion for beautiful, unique glasses. One of our defining points is therefore producing new limited edition collections of glasses every 30 days. In short, originality is the protagonist.
What are your growth strategies, challenges and vision for the future?
Our main strategy for growth is definitely to focus on innovation; we always try to use the latest technology in the sector - the only way to keep up with the giants of the industry.
Another key element in the growth of NAU! is the people who work for the company, people with whom we share our enthusiasm and passion for what we do together.
Our respect for the environment, which we often refer to, is another pillar of the NAU! company. Many of our products are made from 96% recycled plastic that would otherwise end up in landfills, and our aim is to focus more and more on eco-sustainability. This is totally achievable as long as it's what you want. So, what we do, and we want to continue doing, is produce more and more beautiful glasses, sustainably, and for everyone.
How far does the company consider innovation a strategy for growth?
NAU! is primarily an innovative concept, and it is also a way of working. The innovation lies in creating unique eyewear models and using innovative materials, but it is also in the ways we try to present our glasses to customers. Keeping up with innovation is vital for NAU! as we said before, in order to compete with the giants around us.
What does "business internationalisation" mean for you today? Exports, outsourcing, partnership, or a combination of these?
For us, business internationalisation means exporting Made in Italy products all over the world, and in fact wherever we go the Italian taste for beauty is appreciated.
What are your most important markets today? And what markets are you looking at with greater interest in the medium to long term?
We have 115 stores throughout Italy and abroad, in India, Spain and Miami, and have recently visited several other countries that have contacted us: Iran, Canada, South America, Portugal, etc. We see the whole world as a potential market for our glasses.
What was the most important project or time for your company and for consolidating it?
There have been three important moments in the evolution of NAU! Needless to say, the first was when we first came up with the idea of NAU! Another moment of great joy was when we discovered we were the only ones in the sector who took this approach. Finally, there was a moment that had great symbolic meaning for us: when I discovered that NAU! means "idea" in Elvish. After all, it's the little things that make all the difference!
What does it mean for you to be part of the Elite Growth project?
For us, being part of the Elite Growth project has been a great experience of cultural and business growth. We often participate in valuable training events, we have close relationships with other companies, and we even met what later became one of our service providers, thanks to Elite.