VRV Spa
VRV Group: fifty years of expansion and innovation
Interview with Fabio Villa, CEO of VRV, a world giant specialized in the production of systems and equipment for industrial applications.
(Image: VRV facility in Ornago)
Please describe the identity, history and values that underpin your company.
VRV has been operating for over 50 years, designing and manufacturing systems and equipment for industrial applications such as heat exchangers, reactors, medium and high-pressure pressure vessels for the refining, petrochemical and chemical industry (Energy & Petrochemical Division), and engineering and manufacturing insulation tanks for the transport and storage of cryogenic liquids (Cryogenic Division).
VRV has long been active in the market and has made a number of important acquisitions throughout its history. The first of these was in 2001 when it took over the French company Cryo Diffusion, which was founded in 1965 and operates internationally, designing and constructing super-insulated vacuum equipment for cryogenic gas. In 2008 the company inaugurated a manufacturing facility in India specializing in the construction of cryogenic equipment for the Asian market. Then in 2010 it acquired FEMA, a manufacturer of cryogenic and safety valves for the chemical, petrochemical, metallurgical, cryogenic and aerospace industries. In 2015 it acquired American multinational Koch Industries SRL, a company specialising in the design and manufacture of sophisticated shell and tube exchangers and reactors, under major technology licences.
Important milestones in the company's history also include the opening of representative offices in Eastern Europe, Asia, the Middle East and South and North America.
In light of its history, we can now say that VRV has achieved a size large enough to secure its competitive position at the highest technical and production levels on in the international market.
Among the key elements of our success, I would definitely highlight the high professional profile of our employees, combined with a the strong focus on the professionalism of those resources who are in roles of major responsibility. The technical and commercial departments have also been affected by important fundamental investment in the development of skills and business growth. The latter of these, in particular, has been managed steadily and neatly to achieve the Group's objectives in the best possible way.
What is the USP for your products/services and what are the reasons for their success?
Our innovative and high-quality components are built to conform with specific, detailed requirements from our customers. With the diversity of our production range and our high-performance levels, VRV is in the best position to satisfy customer needs. These features make the Group is able to respond appropriately and quickly to market needs, through the support of a judicious sales structure, a correct management and schedule control of ongoing contracts by the Project Managers
Other strengths can be identified in the flexibility of the industrial operations, in the advanced ERP system, and an administrative and financial department that is geared to support medium-term and long-term financial exposure.
What are your growth strategies, challenges and vision for the future?
The company has always pursued growth, with particular focus on international markets, new technologies, sophisticated materials and high-end products. Furthermore, the Group's engineers developed the "Flash System" technology dedicated to continuous drying and reaction systems destined to a plethora of chemical applications, as well as the most advanced technologies for oxygen therapy and bio-medical products. VRV also currently operates in the alternative energy industry, for which it designs and manufactures specialty reactors for the production of silicon utilized in the photovoltaic industry.
How far does the company consider innovation a strategy for growth?
Innovation for us is not just strategic - it's vital. The absence of innovation would jeopardise our survival. The Group introduced incremental innovation both internally - with the expertise of our technical engineers and operators, and externally - with the acquisition in 2001 of Cryo Diffusion, which brought to us the core technologies to expand our product portfolio. In short, innovation is our raison d'être: a state of mind and an indispensable goal that pervades every aspect of our business in different ways and different forms.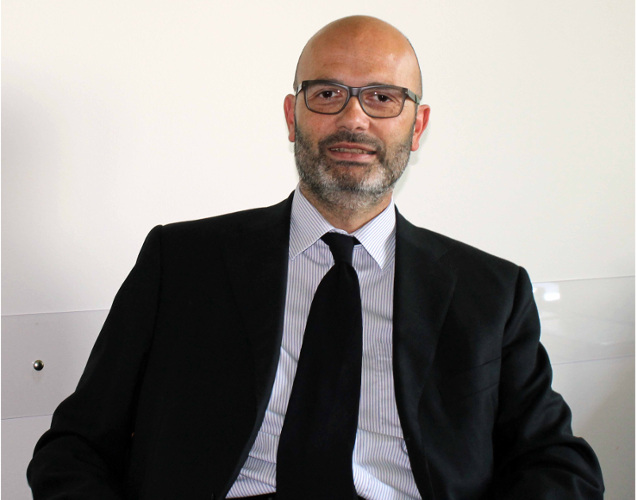 (Image: Fabio Villa, CEO of VRV)
What does "business internationalisation" mean for you today? Exports, outsourcing, partnership, or a combination of these?
The process of internationalisation occurred naturally because our reference markets moved from Italy to Europe, then to the Middle East and finally to the rest of the world.
Traditionally, VRV is a company with a strong international vocation; since the 1980s it has always had a large number of foreign customers, especially in the field of chemical and petrochemical engineering.
This vocation was further consolidated in the early 2000s and resulted in direct growth of the company in foreign markets, with offices and representatives in the main countries. The acquisition of Cryo Diffusion in 2001 gave a further boost to new collaborations in various countries like China, India, USA and Russia. In addition, the setup of the VRV plant in India in 2008 completed our presence in the Asian and Gulf markets. Today, the plant in Chennai is providing us with excellent results, new opportunities and new customers. The need for internationalisation is dictated by the fact that our products are often so big that their logistic would involve high costs, the use of exceptional means of transport with the relevant organisational problems. Hence our need to export VRV know-how to this new plant to respond more efficiently and directly to the needs of the local market.
The decision to make this investment is part of the internationalisation process that we started since year 2000.
What are your most important markets today? And what markets are you looking at with greater interest in the medium to long term?
Today we operate through long-established business relationships in markets that can guarantee us a reference and a turnover for the future, such as the Middle East, Europe and Asia.
We are also exploring opportunities in Africa and North and South America with very aggressive marketing activities - areas where we currently have only a small presence. Our expectations from these initiatives are extremely high.
What was the most important project or time for your company and for consolidating it?
The most important project for the company was the design, construction and sales of Silicon Reactors, which brought us great results in 2006-2012 with good sales volumes and profitability.
This sector allowed us to invest in terms of expansion and rationalisation of our production capacity (Ornago plant is a concrete example of this), and establishment of the new company in India.
What does it mean for you to be part of the Elite Growth project?
Being a member of the ELITE project is an important opportunity for measurement and growth that will enable VRV to consolidate its Group structure and governance. In addition, we will benefit from a diverse network within a collaborative environment. These elements will bring the company greater visibility and direct contacts with investors for continuous and constant development.